The part of my personal preparedness that has taken me the longest to complete, and given me the most confusion, is water storage. I'll share what I've learned so far, to help all the other confused procrastinators out there.
First I tried buying water in gallon containers or saving extra water bottles. A few got leaks as they got jostled around during camping trips, and I discovered their thin skins are best kept safe inside sturdy plastic containers and not moved a whole lot.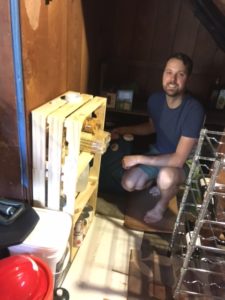 My ultimate goal was to store tap water in large quantities because of my aversion to paying for overpriced water from a corporation that might be taking it from a community that needs it more (see: Nestle/Cascade Locks water disputes). We have great water quality in Portland, anyway. But I wasn't sure what kind of containers to use or how to sanitize them properly.
As I had a lot of glass mason jars on hand already, I decided to "can" my water. I used a sanitizing spray that I'd bought for kombucha-making on the jars and their lids. I filled them with water and put them inside a very heavy duty plastic bin from Home Depot in my basement. A couple months later, after learning more about the importance of sanitizing, I started doubting the integrity of my jar/lid seal (they didn't have rubber seals), and decided to try a different method.
I found myself at REI with some dividends to spend and a sale going on. I knew I wanted to get some preparedness supplies, so I got the only water containers left – two 14-gallon containers that were quite large. I knew I needed to get up to that 14-gallon minimum because of the 1 gallon/day/person for two weeks rule of thumb. When I got home, I filled them up with water and left them in the basement. Later on, I learned you have to sanitize the containers with a touch of bleach before you add the water. So I poured them out, let them dry, and started over.
Eventually my boyfriend and I took the time to do it right. I got my instructions from the video How to Store Your Own Emergency Supply of Water, which was made by the Regional Water Provider's Consortium. After following their instructions, we had our own take on things:
WHAT WE LEARNED:
It would be best to get water containers that fit into the kitchen sink so you can pour it directly from the tap into the container. Mine were too large, so we had to sanitize a pitcher, then pour it into the container. Also, I didn't realize how heavy they would be once filled – I could barely carry them. Water is 8 lbs a gallon, so you know, you do the math.

Alternatively, a hose connection could reach from the spigot to the container. Ideally, a split connection with a timer, so you could just set it and come back to it when it was done. I know that homebrew stores have hoses because I dabbled with kombucha making, and that's partially how I started learning about water storage.

You may have to do this sanitizing process every six months for the rest of your life (see below). So you should label your containers with the date you filled them. Since this process is time-consuming, streamline it as much as possible. Get that hose, or smaller container, so it's easier for you to do it. We didn't think the step of rinsing with soapy water was really necessary since the bleach rinse comes right after. The only way to tell if the sanitizing really worked is to check the water for scuz and taste it the next time you repeat the process in six months.

If you're bottling water yourself, many recommend that you change it out every 6-12 months. Or you could add 1/8 teaspoon of chlorine bleach per gallon of water stored. This precaution will protect you against any lingering organisms that may have been inadvertently missed during the cleaning and/or filling process.

You don't need to change it out every six months if you're using commercially bottled water. Plastic may leach into your water over time, but in a true emergency it's better to have more water than less, and short-term exposure to plastic will probably be the least of your concerns.

Most of us need to drink about two quarts of water per day to stay healthy. That's half a gallon. When you're stressed and/or working hard, you need even more to stay healthy. Living on a gallon of water per day (for drinking, cooking, and cleaning) is actually pretty challenging. While 14 gallons per person is a good starting goal, consider storing more. Much more. You'll likely never say, "I stored too much water."

If the thought of rotating your water supply overwhelms you or in any way prevents you from storing more water than you currently have – forget about it. Just get more and let it sit. You can always add bleach to it after a disaster strikes if it seems icky.
The photos seen here are of my boyfriend Matt filling the containers in the kitchen. We had to sanitize a pitcher to get the water in, which was inefficient. We're considering getting a hose attachment. Matt puts the containers with our food storage, camping supplies, twin buckets, and my NET gear, under our basement stairs. The wine rack is also part of the emergency supplies 🙂
Want to help encourage others to store water? Take the #14GallonChallenge!
Written by Katy Wolf
Team Leader, Boise/Eliot/Humboldt Neighborhood Emergency Team
Exercise & Training Coordinator, Portland Bureau of Emergency Management