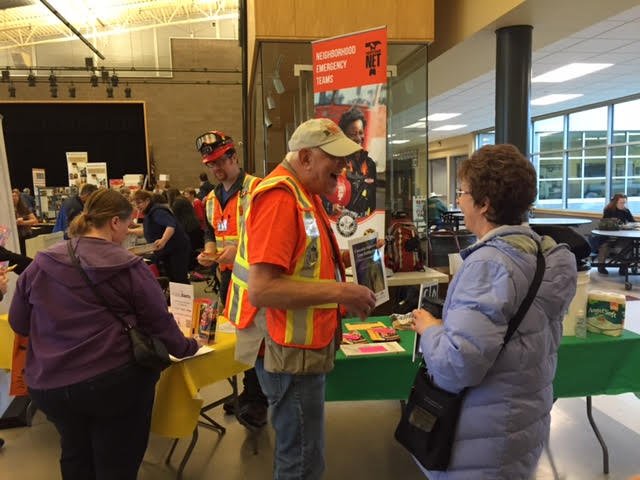 Sunday Parkways, Farmers Markets, National Night Out, Movies in the Park… It's summer, which means it's outreach season for Neighborhood Emergency Teams. Outreach is an incredibly important part of what NETs do. After all, we can't help everyone, so we need to help our neighbors prepare themselves.
At the last Arbor Lodge / Kenton NET meeting, one of our talented team members (Angela Watson) presented us with this great list of tips for how to interact with the public when staffing an outreach booth.
WHY VOLUNTEER TO STAFF A BOOTH?
Help your community

become better prepared for a disaster and more resilient.

Help NET

by raising awareness of what NET is, recruiting new NETs, and getting donations.

Help yourself

by making new connections and earning NET hours.
WHAT DO I NEED TO DO AS A BOOTH VOLUNTEER?
Wear your NET vest, badge, and hardhat so you're easily recognizable as a NET member.
Be there for your entire shift and ensure a good hand off to the next shift.
Be visible and welcoming without being pushy.
Speak positively about PBEM and the NET program.
HOW DO I GET PEOPLE TO COME TO THE BOOTH, AND WHAT SHOULD I SAY?
Draw people in with eye contact, body language, and simple questions.
Example: "Do you live in this neighborhood?"

If YES: Point to Hazards Map and ask "Whereabouts?" and discuss nearby hazards.
If NO: Ask "which neighborhood are you in?" and "Did you know you have a NET team?"

Tailor the conversation to your audience.

Do they

have kids

? (Discuss how their school is preparing kids and the importance of creating and practicing a family emergency plan.)
Do they

have pets

? (Remind them to include pet items in kit.)
Do they

work in a different neighborhood

? (Talk about importance of having a go kit and having a plan to get home. Discuss the NET team or BEECN site nearest their office.)
Are they

already a prepper or NET member

? (Awesome – encourage them to get more involved in NET or start engaging with their neighbors! But avoid getting sucked into non-productive conversations that might pull you away from other folks.)
Are they

in denial about "the Big One?"

(Say "It's possible it won't happen in our lifetime – but if you're prepared for a subduction zone earthquake, you're prepared for almost anything! And if it does happen in our lifetime, you'll certainly be glad you prepared.)

Share a personal story – Why is preparedness important to you? Were you involved in a previous disaster? What inspired you to join NET?
Recognize that getting prepared can be emotionally and financially overwhelming.

Remind them that it's a process and they don't have to do everything at once.
Recommend starting with ONE easy, achievable thing like water storage (1 gallon per person per day).
If cost is a concern, remind them that they probably already have many items in their home or garage. Share tips for finding supplies at a discount or making your own.

Don't be afraid to be a little bit crazy! (Wear a Utili-Kilt, wear a sandwich board, sing a song?!)
COMING SOON: PREPARATION, SETUP, & TEAR DOWN

Stay tuned! We're working on a generic checklist for outreach booth logistics. It will include tips for:
Planning your outreach schedule for the year
Reserving booth space
Securing raffle donations
Recruiting volunteers
Setting up a booth (including a diagram)
Tearing down a booth
We're also working on a quick reference cheat sheet for volunteers that includes, helpful links, a map of NET teams, NET team lead contact info, a list of places to get water jugs and other supplies, and talking points.
–Laura Hall, Arbor Lodge / Kenton NET Assistant Team Leader, arborlodgeprepares@gmail.com